The PM Laghu Vyapari Mandhan Scheme online Registration 2023 and Application process. Pradhan Mantri Laghu Vyapari Maan-Dhan Yojana. Notification of Pradhan Mantri Laghu Vyapari Maan-dhan, Yojana at https://labour.gov.in/whatsnew/notification-pradhan-mantri-laghu-vyapari-maan-dhan-yojana
PM Laghu Vyapari
The Small-scale and medium entrepreneurs go through multiple hassles to thrive in the business world. Most face financial strain and lack support from financial organizations like banks to fund their business and equipment. Besides the financial challenges, many self-employed people don't have a retirement plan to cater to their after-work life. Many end up frustrated, depressed and continue to work even in old age to try and support their families.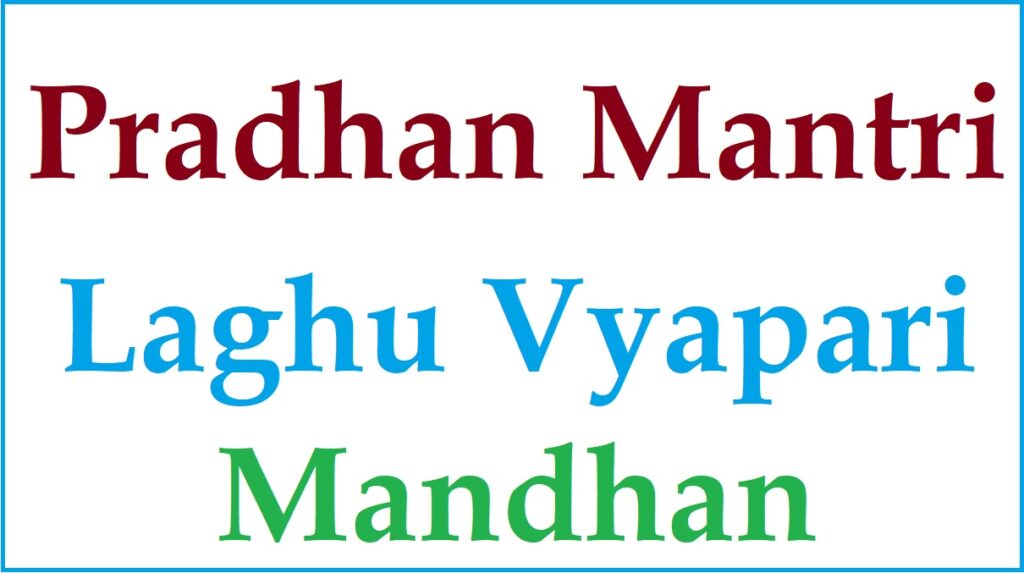 PM Laghu Vyapari Mandhan Scheme
The Indian central and state government, through the Ministry of Labor and Employment, have launched a special program for small traders and all self-employed people in the country. The government has made a financial commitment of Rs. 3000 per trader to help with pension services. The PM Laghu Vyapari Mandhan scheme, also known as the Karam Yogi Mandhan scheme, is a popular pension scheme established for all small traders (shopkeepers, retailers).
The scheme accommodates traders between the ages of 18 to 40 years. The beneficiaries need to contribute a particular amount to add to what the government has provided. One can offer from Rs.55 to Rs.200 per month until the retirement age of 60. This helps equalize all workers and pensioners as self-employed users can receive pensions like employees in the formal sector. PM Laghu Vyapari Mandhan scheme will benefit more than three crore retail traders, shopkeepers, and small business owners.
Features of PM Laghu Vyapari Mandhan scheme
Eligible traders will receive Rs. 3000 pensions from the government.
The scheme favors small traders like shopkeepers and other self-employed traders.
Beneficiaries need to pay monthly contributions ranging from Rs.50 to Rs. 200.
Indian Government estimates to benefit more than 3 Crore beneficiaries.
Registered traders will receive the funds at 60 years during retirement age.
Eligibility Criteria
Applicant must be an Indian resident.
They must be 18 to 40 years.
One should be a small business trader.
The yearly turnover shouldn't exceed 1.5 lakhs.
Required Documents for Registration and Application Process
Aadhaar card
Residential proof details
Age proof documents
Business legal documents
Trade license
GST details
Bank account data
How to Register for PM Laghu Vyapari Mandhan Scheme
Open the PM Laghu Vyapari Mandhan scheme website portal.
Select the "click here to apply now" link.
Choose your preferred option, either "self-enrolment using mobile number and OTP or CSC VLE using CSC connect to apply.
Suppose you select the self-enrollment option and enter the login as requested. Enter your mobile number and press proceed button.
The registration option will open, enter your name and email captcha code and click the "Generate OTP" button.
The system will open the dashboard, where various schemes will show. For example, Pradhan Mantri Kisan Maandhan Yojana, PM Shram Yogi Maandhan Yojana, and National Pension scheme for traders and self-employed person Yojana
Click the enrollment tab and choose the scheme's name to avail the subscriber enrollment form. In this case National Pension Scheme for traders and self-employed person Yojana.
Next, enter the required details like:

Aadhaar number
Name
Mobile number
Email
Gender
State
PIN code
Category
Annual turnover

Review the information and click submit button.
How to Apply for PM Laghu Vyapari Mandhan Pension Yojana through CSC (Offline)
The government has designated many CSC (common service centers) in the country. The centers offer various government services, including Pradhan Mantri Karma Yogi Scheme registration 2023.
Visit the nearest CSC and request PM Laghu Vyapari Mandhan's scheme registration process.
Ensure to carry your Aadhaar card, bank details, and other requirements.
The CSC officers will calculate the monthly contributions based on your age.
Next, pay the first installment at the center and take your receipt for reference.
Enter your signature on nomination details and auto debit mandate on your bank account.
CSC officers will provide you with a Traders pension card.
The following contributions will automatically be debited from your bank.
FAQs
How much does the government contribute to the Pradhan Mantri Karma Yogi Scheme?
Eligible applicants will receive Rs. 3000 from the government. The user will continue with monthly contributions of Rs—50 to Rs. 200.
When can beneficiaries receive their pension funds?
A beneficiary can only claim the funds once they attain the age of 60 years.